Black Opium Eau De Parfum 90ml Gift Set
Celebrate your beauty with YSL's Black Opium Eau de Parfum exclusive gift set
26%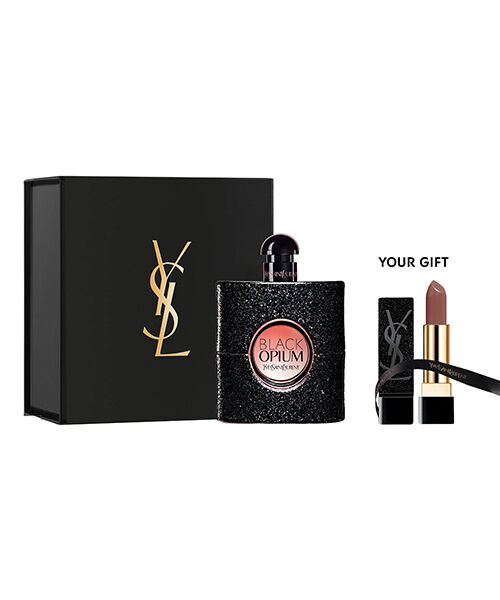 Black Opium Eau De Parfum 90ml Gift Set
Celebrate your beauty with YSL's Black Opium Eau de Parfum exclusive gift set
YOUR LUXURIOUS OFFER
Enjoy 1 Luxurious large YSL Beauty Vanity, 2 travel size fragrances & 2 mini makeup items with every purchase over 1000 AED
YOUR EXCLUSIVE OFFER
Receive a YSL make up bag and 2 travel size products with every purchase over 500 AED
Description & Benefits
Black Opium Eau De Parfum 90ml

Discover Black Opium, the feminine fragrance by Yves Saint Laurent – glam rock fragrance full of mystery and energy. An addictive gourmand floral with notes of: Black Coffee – for a shot of adrenaline; White Florals – to instantly seduce; and Vanilla – for sweetness and sensuality.

GIFT: Rouge Pur Couture x Zoe Kravitz #123

Edgy meets cool for the hottest couture collaboration ever. Zoë Kravitz revisits Rouge Pur Couture. Designing exclusive new shades in a utterly beautiful pack.

Bold. Bright. Stylish. Want it. Wear it.

MARIS' NUDE No 123 – a radiant matte finish, a warm brown shade so named after Zoë's godmother. "She's just one of the most fabulous women I know.
How To Apply
Three application tips for three couture results:

- For a precise and sophisticated finish: apply the lipstick with a brush.

- For a discrete and refined finish: pick up some color with your fingertips and dab the texture onto your lips.

- For an intense and stylish finish: apply the color directly with the bullet.