Dessin Des Levres
DESSIN DES LÈVRES, THE ALL–AROUND, MULTI-USES STYLING LINER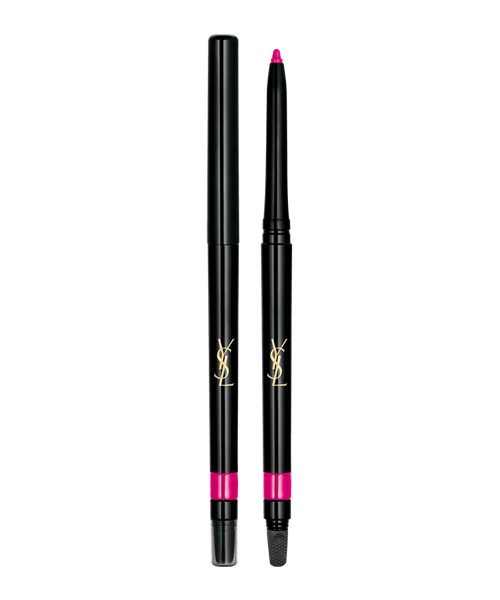 Dessin Des Levres
DESSIN DES LÈVRES, THE ALL–AROUND, MULTI-USES STYLING LINER
YOUR LUXURIOUS OFFER
Enjoy 1 Luxurious large YSL Beauty Vanity, 2 travel size fragrances & 2 mini makeup items with every purchase over 1000 AED
YOUR EXCLUSIVE OFFER
Receive a YSL make up bag and 2 travel size products with every purchase over 500 AED
Description & Benefits
NO NEED TO CHOOSE. YOUR STYLE COMES FIRST.

Line them, fill them in or max out that contour with a strobe or ombré effect – lip liner is making a comeback.
Benefits
At one end, the pencil tip empowers with precise application; at the other, a flexible lip blender blurs and smooths.

A modern twist pen with a built-on sharpener, 12 new trending shadeHexaCodes meet their match in the stars of the ROUGE PUR COUTURE colour collection.
Results / Finish / Effect
Three talents, multiple benefits – new DESSIN DES LÈVRES LIP STYLER delivers a new creamy, glide-on formula that promises 6-hour, life-proof colour.

A precision liner, a smoothing primer that grips any colour to the lips and a 21-century highlighter that shadeHexaCodes and contours.
Lip Effect
Matte Long hold
Makeup Texture
Pencil
Presentation
Mono
Size
Regular
Keywords
LIPS - LIPSTICK - LIP PENCIL - BEAUTY - MAKEUP - COLOUR RED - CONTOUR
How To Apply
LINE IT for defined lips with a cutting edge precision.

PRIME IT to increase your lipstick hold with a smotthing, colour griping, matte formula.

CONTOUR IT to highlight, to replump or shape your lipstick at will.