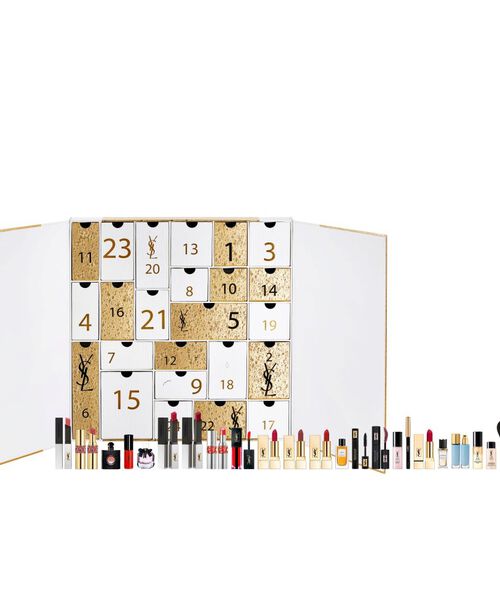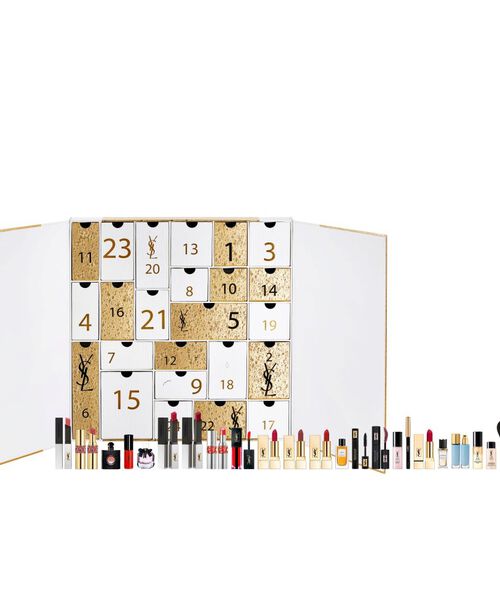 Description & Benefits
GIFT BOLD. GIFT GOLD
What it is

An immersive advent calendar with the best of Yves Saint Laurent including mini and full-size products from fragrance, beauty and skincare.

This set includes:

Touche Éclat Blur Primer 10ml
Black Opium Eau de Parfum 7.5ml
Mon Paris Eau de Parfum 7.5ml
Libre Eau de Parfum 7.5ml
Le Vestiaire Des Parfums Tuxedo & Saharienne 7.5ml
Rouge Pur Couture The Slim Sheer Matte 101, 107, & 112
Rouge Pur Couture 93
Rouge Volupté Shine Lipstick Balm 91
Rouge Volupté Rock'n Shine 5
Water Stain 618
Deluxe Mini Rouge Pur Couture 21, 83, and 1966
Deluxe Mini Tatouage Couture Velvet Cream 201
Pure Shots Hydra Bounce Lotion 10ml
Pure Shots Night Reboot Resurfacing Serum 7ml
Pure Shots Light Up Brightening Serum 7ml
Deluxe Mini Curler Mascara
Deluxe Mini Mascara Volume Effet Faux Cils
Mini Dessin du Regard Eyeliner Pencil 01
Kabuki Brush
What it does

The gift for the luxury beauty lover who has everything else. Unwrap a new gift all month long for the ultimate couture surprise. Experience the best of YSL Beauty including top-selling fragrances, high fashion lipsticks, and nourishing sumptuous skincare. Our Advent Calendar is plastic-free, made of 100% cardboard sourced from sustainably managed forests.