Couture Colour Clutch Eyeshadow Palette
yves saint laurent eyeshadow palette in a faux leather clutch featuring the iconic YSL logo Starring a collection of shades wearable for day or night, for every eye colour makes for a vibrant eye shadow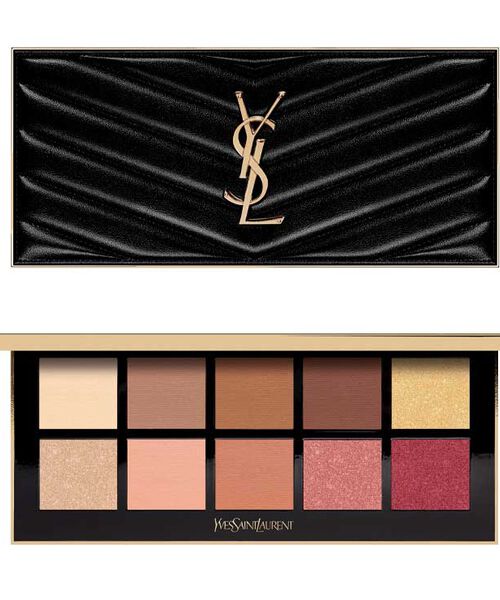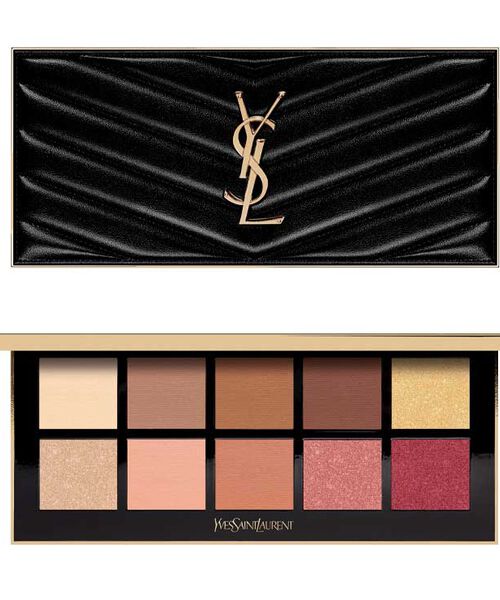 Couture Colour Clutch Eyeshadow Palette
yves saint laurent eyeshadow palette in a faux leather clutch featuring the iconic YSL logo Starring a collection of shades wearable for day or night, for every eye colour makes for a vibrant eye shadow
Description & Benefits
New multi-finish eyeshadows presented in a faux leather quilted clutch adorned with the iconic YSL logo. A cult eye accessory daring you to clutch at colour as you define your look for the new season. Starring a collection of shades wearable for day or night, for every eye colour. As worn by YSL Beauty ambassador Kaia Gerber.

DESIGN

Inspired by couture craftsmanship and designs, YSL Beauty premieres Couture Colour Clutch. A new eyeshadow palette for the contemporary woman: sophisticated, empowered, defiant. Crafted from faux black leather, the eyeshadow clutch spotlights the iconic YSL logo in gold-tone hardware, quilted overstitching and a fold-over top for a couture touch. A YSL Beauty contemporary classic set to accessorise every look.

SHADES

Exploring different moments of the brand's legacy, the new eyeshadow clutch Paris showcases a wardrobe of 10 shades. As signed by YSL Beauty Global Beauty Director Tom Pecheux. Mattes, soft satins, dazzling shimmers and bold metallics come together to create impactful looks suited to any occasion: from sultry smokey eyes to everyday wear. All embracing a versatile yet bold femininity.

- Quilted, faux leather eyeshadow clutch
- Gold-tone YSL logo
- 10 versatile eyeshadows
- Shimmery, satin & matte finishes
- From daytime to evening looks

PARIS

The home of YSL Beauty, the "City of Lights" has an indisputable impact on all who pass through its shimmering streets.

Reflecting the bold glimmer of the Eiffel Tower are the metallic gold, silver and coppery bronzes on the left of the palette, paired against the matte black and an electric hue of yellow for a bolder eye statement. Perfect for daytime is the selection of plush and sheer pinks on the right, a nod to the Parisian "Golden Hour", completed with the deep purple in the centre to add intensity.
How To Apply
APPLICATION

To ensure a flawless application, ensure the eye area is dry, clean and moisturised.

For best results, prime your eyelid before eyeshadow application with YSL Touche Éclat High Cover Concealer and gently tap your fingertips across the eyelid to blend the product.

To illuminate the greater eye area, apply YSL's iconic Touche Éclat Illuminating Pen over the inner corner of the eye and under the arch of the brow for a natural highlight.

Apply eyeshadow as desired or following the makeup artistry tips from YSL Beauty below.

Finish off your look with Mascara Volume Effet Faux Cils Radical for a false lash effect, dramatic volume and black intensity.

MAKEUP ARTISTRY TIPS

- Daytime Look: For a daytime look create a shimmering base by applying a light shade across the eye lid (shades 5, 7, or 10).

- Colour Statement: Add a dash of colour in the upper and / or lower inner corners of the eyes. If applied with your fingertips, they give a softer look. If you feel daring, apply underneath the lash line (shades 2, 9 or 4)

- Subtle Highlight: To highlight, add a satin eyeshadow under the arch of the brow and / or to the middle of the eyelid. (shades 1, 5 or 6)

- Definition: For definition, run a darker shade along the lash line (shade 3 or 8)

- Evening Smokey Eye: To dial up your look for night time use a deeper tone for a smokey eye effect. Focus the application on the outer corner of the eye and into the eye crease and ensure to blend well (shade 3).

- For a high-shine, metallic smokey eye look add gold, silver or bronze eye shadows (shades 1, 6, 7).